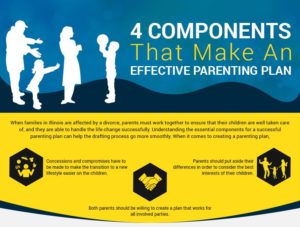 When families in Illinois are affected by a divorce, parents must work together to ensure that their children are well taken care of and are able to handle the life-change successfully. Easing the transition to a new lifestyle often requires concessions and compromise, especially when it comes to creating a parenting plan. In order for a plan to be effective, parents should put aside their differences in order to consider the best interests of their children.
The divorce process can be fraught with conflict, and any issues that concern children are often hot-button topics that cause emotions to run high. Understanding the essential components for a successful parenting plan can help the drafting process go more smoothly for both parents who are willing to create a plan that works for all involved parties.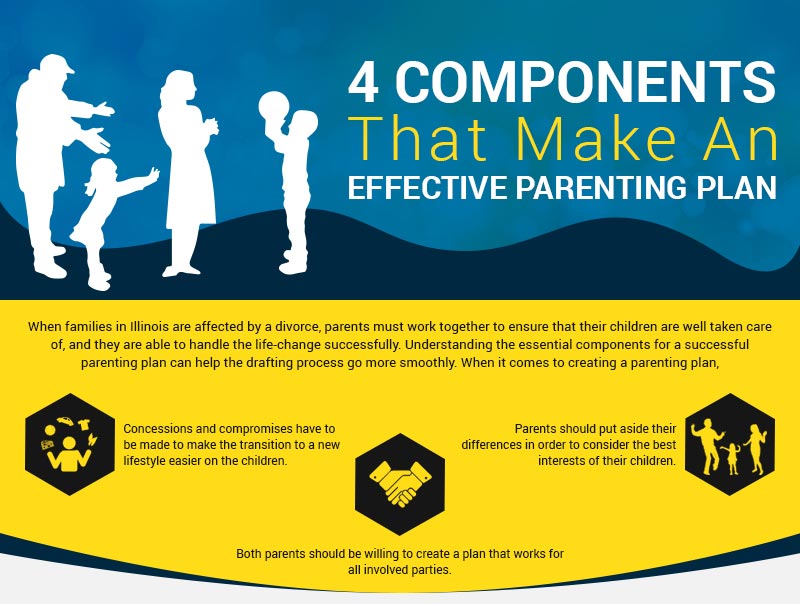 1. Visitation schedules
A parenting plan should include a schedule that outlines the visitation requirements, depending on the child custody arrangements that have been ordered by the court. Flexibility is important when it comes to the well-being of a child, but in the case of a parenting plan, a visitation schedule should be as specific as possible to help reduce the number of things parents could potentially argue over. It is important for parents to set up a schedule that provides for the consistency that a child needs, keeping transfer days the same as often as possible.
2. Holiday and school break schedules
There are certain times throughout the year when a regular visitation schedule can be altered for time off of school and for holidays. An effective parenting plan should have a holiday schedule already in place so that parents know ahead of time which parent their children will be with on special occasions.
3. A procedure for dispute resolution
Maintaining a relationship after a divorce can be difficult, but parents who include a procedure for dispute resolution in their parenting plan can be more successful at getting through problems that may arise. Some parents may choose to appoint a conflict referee to help when issues come up, while others have a set method of communication that works best in their case.
4. A procedure for making changes
Over time, the needs of the children and the parents may change, making it necessary to alter portions of the parenting plan. Methods for modification to the plan should be outlined, instructing both parents of what they should do if they would like to ask the other for a change.
Drafting an effective parenting plan can be complicated, causing many divorcing parents to seek legal assistance in order to come up with the ideal version for their family's specific needs.
Go Back <<