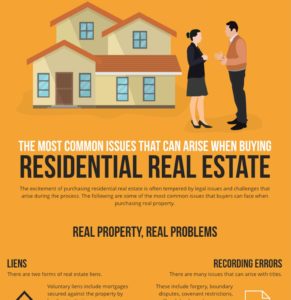 The excitement of purchasing residential real estate is often tempered by legal issues and challenges that arise during the process. The following are some of the most common issues that buyers can face when purchasing real property.
(Article continues below Infographic)

Real Property, Real Problems
Liens – There are two forms of real estate liens. Voluntary liens include mortgages secured against the property by lending institutions. Involuntary liens can be placed by creditors, the builder, or state, federal, or local tax authorities. If the property owner does not clear these liens prior to sale, then they become the responsibility of the home buyer.
Recording Errors – There are many issues that can arise with titles. These include forgery, boundary disputes, covenant restrictions, illegal deeds, and easements. Because these issues can bring into question ownership of the property, it is crucial to ensure the title is "free and clear" of encumbrances prior to closing.
Construction Defects – Illinois property owners are required to disclose known issues regarding flooding, code violations, and material defects within the structure or its components. This can be especially problematic with "as-is" disclosures.
Actions Have Real Consequences for Real Estate Agents
In many cases, the problems buyers face after purchasing property stem from the negligence of their real estate agent or the seller's real estate agent. In such cases, the buyer may be able to seek damages from either real estate agent under the following circumstances:
Breach of Duty – The buyer's agent has a duty to act in their client's best interests. If they breach the client's confidentiality, fail to perform due diligence in their research, and fail to deliver reasonable care, then they can be held liable for the damages such actions create.
Breach of Contract – Breach of contract occurs when the real estate agent violates specific terms of the agreement. Such breaches might include failure to complete the purchase within a specified timeframe or failing to complete any required inspections.
Personal Injury – A real estate agent can be held liable for material defects that cause bodily injury to the property owner, their family, or visitors to the property.
Property buyers who have purchased a property that is encumbered by a lien or has significant material defects should consult with a real estate lawyer to discuss the appropriate legal recourse. Because different issues have different statutes of limitations in Illinois it is recommended to do this as soon as the issue arises.
Go Back <<