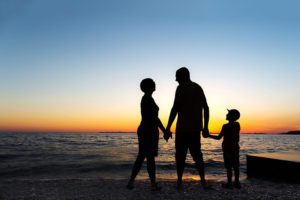 In Illinois, when a woman who is married conceives, her husband is automatically considered the father of the child. However, a biological father who is not married to the mother of the child at the time of conception must prove paternity before being granted custody or visitation rights. In this case, a man's name will not be on the child's birth certificate until it has been legally established that he is the father of the child.
Voluntary and involuntary paternity confirmation
The mother and biological father may agree to sign a Voluntary Acknowledgment of Paternity, which is offered by the hospital at the time of the birth. As long as both parents sign the form, the father is added to the birth certificate. This form may also be filled out within thirty days of the birth. If the mother is married to another man at the time of conception, a Denial of Paternity form must also be filled out and signed by the husband or ex-husband, as well as the mother.
When the mother does not acknowledge a man as the biological father, he may join the Putative Father Registry in order to protect his parental rights until his relationship to the child is established. Child Support Services conducts interviews with both the mother and the father and then determines whether a genetic test is necessary. This test uses a cotton swab on the inside of the cheek to collect the DNA of the mother, the alleged father and the child in order to prove the biological relationship. Healthcare and Family Services may also use the judicial process to establish paternity in a court hearing.
Legal rights of a biological father
Once a father is added to the birth certificate, he has a legal right to a relationship with his child. Both parents may agree to a Joint Parenting Plan, which is then approved by the court. If the mother is not cooperative, the court can create a plan to ensure that the father is allowed parenting time. Benefits of the paternal relationship extend to the child, as well, including the following:
Financial support
Medical support
Social Security
Veteran's benefits
Inheritance
If another man seeks to adopt the child, the biological father has the right to oppose the adoption. He may also sue for child custody in court. A father who wants to develop a relationship with his child through visitation or custody can benefit from the legal assistance of a qualified family law attorney who is familiar with the Illinois legal system.
Go Back <<