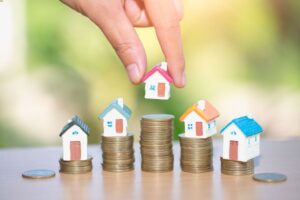 The Chicago Bears football team's proposed move to Arlington Heights may see property values in the suburban town grow significantly. Although they have not finalized a deal, the Bears organization entered a purchase agreement to buy the recently closed Arlington International Racecourse property. Hopes for the 326-acre parcel would see it include a state-of-the-art stadium for the National Football League franchise, as well as an urban space with restaurants, retail, and other businesses.
Arlington Heights is home to approximately 76,000 residents and about 4000 businesses as of September 2021. An upper-middle-class suburb outside of Chicago, the town has a median household income of $88,000.
Bears Move May Bring Community Opportunities
The Bears' franchise's agreement to buy the Arlington International Racecourse property moves the organization closer to an idea first suggested as many as 50 years ago. With the development of the property for a stadium, and likely an entertainment district, would come business and employment opportunities. As an area sees an increase in things to do and places to work, it often brings an increase in people. A boost in the economy, such as a development like this would likely cause, also generally sees the property values increase in the surrounding areas.
Potential Downsides to Moving the Bears to the Burbs
Not everyone shares the excitement for the Bears' potential move; some worry the possible downsides far outweigh the benefits. People looking to sell their Arlington Heights homes and move to new areas may benefit from the added value of their properties. However, those looking to live in the town for an extended time may face noise, increased traffic, parking problems, crowd spillover, and other such issues that may come with hosting football games and other major events at a local stadium. Some have concerns that, over time, issues such as these may have an adverse effect on property values in the neighborhoods surrounding the proposed stadium development. Additionally, increased property values lead to increased property taxes, potentially raising people's cost of living.
Owning a home is a substantial investment and, for many, also a way to plant roots. Understanding the impact that changes and developments in the areas where they live, such as those caused by bringing an NFL franchise to town, may help homeowners protect their rights and interests.
Go Back <<