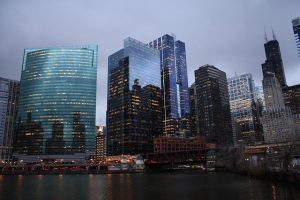 Investors who are considering investing in commercial real estate in Chicago may want to reconsider as prices enter a fiscal death spiral.
Green Street Advisors, a real estate research firm, discussed these fiscal crises in a new report assessing the kind of risk investors face when purchasing in markets experiencing budget and public pension issues. According to the report, the Chicago market had the worst "fiscal health," among the U.S.'s top metropolitan areas. Fairfield County, Connecticut, and Northern New Jersey ranked just below.
What the Fiscal Death Spiral Means for the City
During a fiscal death spiral, tax-hikes contribute to outmigration and even higher taxes. The Green Street Advisors report is dire for Chicagoans. The Chicago commercial real estate market had been performing well. The crisis is largely due to an influx of investor funding that has increased property values and, subsequently, profits for landlords.
After attracting huge corporations including McDonald's, which established its headquarters in the West Loop in 2018, the commercial real estate market in the city is suffering fallout. Increasing property taxes have impacted landlords' bottom lines, while other increases in taxes have forced residents to leave Illinois, in turn decreasing demand for retail, apartments, and other types of commercial real estate.
Investors seek locations where populations are thriving. Even as an appealing lifestyle and plentiful career opportunities entice younger people including college graduates to live in Chicago, the declining fiscal health could be enough to keep them away.
While the real estate market in Chicago may still be strong, it has slowed considerably over the past year, leading many investors to seek out other faster-growing cities. A majority of investors know about the city's poor fiscal performance, but it can still be difficult to gauge the risks regarding appropriate property payments. It may be possible to predict property tax increases over a period of expected ownership, but it can be more challenging to predict migration patterns.
Both Chicago and the state have experienced surges in income and property taxes to brace for shortfalls in the budget, and the report warns that more spikes are to come. The city's population has decreased by seven percent since 2000 and will likely continue to decline.
Go Back <<