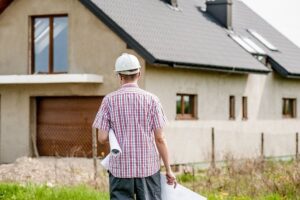 Chicago residents may be able to use FHA 203K Loan to buy and renovate fixer-upper homes. The FHA requires borrowers to reside in the property for a minimum of 12 months. Investors can use the loan to renovate multifamily units, live in one unit, and rent out the rest.
The FHA 203K Rehab Loan
The FHA 203K rehabilitation Loan is a mortgage program supported by the Federal Housing Administration (FHA) and lets individuals buy rundown homes and renovate them. It is a single loan that covers the purchase price and renovation costs of a property.
Homeowners also have the option of tearing down the existing structure to the foundation and building it afresh. However, rehab loans cover only necessary repairs to improve the structural integrity and livability of a home.
Limited and Standard FHA 203K Loan
Homebuyers can take limited or standard 203k loans. Limited 203k offers a maximum renovation budget of $35,000 and can't be used to make structural renovations. It is suited to homeowners who would like to make basic repairs to their homes.
In contrast, the standard 203k loan offers more funding and is suited to home buyers purchasing properties that require structural repairs. The figure can be as high as 110% of the future value of the property and only capped by the individual's loan limit.
Ideal for First Time Investors
The FHA 203K Loan is suitable for first-time investors wishing to try their hand in owning and renting property. Since the homeowner will be using the property as his or her primary residence, he or she will get low-interest rates. 203K borrowers often make lower monthly payments and accrue less interest than people who take investment property mortgages.
Refurbishing Homes
Chicago residents who already own homes can use the FHA 203K Loan to refinance their current mortgage and make renovations. Investors can use the loan to buy 2,3, or 4-unit properties, live in one unit, and rent out the others. The rental income can cover monthly mortgage payments. The FHA allows borrowers to rent out their homes if:
they have occupied the property for one year.
they are moving out for a legitimate reason such as change of workstation or moving to a bigger house.
However, this strategy can only work for one property. Attempting to use the FHA 203k loan to flip several properties would constitute a felony. FHA 203k loan has similar basic requirements to other FHA mortgages.
Go Back <<