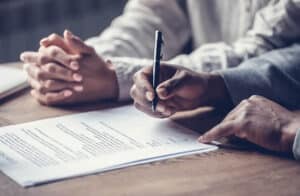 Understanding how to make a fair spousal maintenance agreement can help divorcing couples avoid financial troubles in the future. Couples seeking a divorce – amicable or otherwise – will have their assets divided by the court. One spouse will often also be required to pay the other spouse alimony. Referred to as spousal maintenance or spousal support in Illinois, people going through divorce may benefit from understanding the reasons for alimony, how it's calculated, and how it's modified.
Reasons for Spousal Maintenance Agreements
Spousal maintenance is intended to minimize any unfair economic effects of a divorce by providing a continuing income to a non-wage-earning or lower-wage-earning spouse. One part of the justification is that one spouse contributed unpaid work during the marriage, such as childcare or housework. Another is that the same spouse has generally invested years of his or her life into the marriage and the support of the family. It is presumed that the spouse has done so at the expense of his or her own professional development and that it requires time for the spouse to develop the job skills to support himself or herself.
Finally, in a high net worth divorce, alimony is often used to assist a non-wage-earning spouse in maintaining his or her standard of living during the marriage. While most experienced divorce lawyers can help a divorcing couple make a fair spousal maintenance agreement, high net-worth individuals will want to engage a high asset divorce attorney.
Types of Spousal Support in Illinois
There are four types of alimony that Illinois courts will typically grant:
Temporary spousal support is provided to one spouse while the divorce case is still pending in court. It is typically awarded to a spouse who lives separate and apart from the other spouse during the marriage dissolution process, and is meant to support the recipient's living expenses during the divorce.
Fixed-term spousal support is alimony that is granted for a predetermined period of time. This type of alimony is typically paid to help the recipient become financially independent.
Reviewable spousal support is similar to fixed-term spousal support, but is not awarded for a set period of time. Instead, it is subject to judicial review on a regular basis and is typically reliant upon the beneficiary making sincere attempts to become self-sufficient. It is also suitable when raising children prevents the receiving spouse from pursuing uninterrupted education or employment training.
Permanent spousal support (indefinite alimony) is financial support that is awarded for the remainder of the receiving spouse's lifetime.
The parties may also agree to lump sum alimony, where a spouse makes a one-time payment to pay the other spouse the money needed to cover all of his or her current and future alimony obligations.
How Is Spousal Maintenance Calculated in Illinois?
Using the Illinois guidelines, there is a basic formula for calculating spousal maintenance. It is 33% of the payer's monthly net income minus 25% of the receiver's monthly net income. The resulting amount of spousal maintenance cannot result, however, in one party earning over 40% of both parties' combined income.
In some cases, the courts will choose to deviate from these guidelines. This tends to be the case when the couple's annual income exceeds $500,000 or when one spouse is already paying child support or alimony. The court must explain its reasoning for departing from the Illinois guidelines.
Can Spousal Maintenance Agreements Be Modified?
Illinois law allows the paying spouse and the receiving spouse to request that the court modify alimony payments. They can do this when there is a substantial change in circumstances that could impact the payments. Some examples of these changes include:
A substantial decrease in either spouse's financial status – Including the loss of a job, a salary reduction, a disability, or the failure of a business. The change, however, cannot be a voluntary one.
A substantial increase in either spouse's financial status: Should the receiving spouse start earning more income, the paying spouse may be enabled to lower his or her payments or payments may be terminated completely. Should the paying spouse begin earning more income, the payments could be increased.
Remarriage: The spouse receiving the alimony marries again or starts living with someone else.
Retirement – Payments may be modified when one or both spouses retire.
Health-related concerns – This involves a serious health issue that limits the earning potential of either spouse.
How to Make a Fair Spousal Maintenance Agreement
In a situation where the parties are settling their divorce outside the courts, they may decide to include a spousal support agreement in the settlement. Experienced Illinois divorce lawyers can work with the parties to make a fair spousal maintenance agreement. They will often do this by considering the same factors as the courts would, by ensuring that complete information about both parties' financial resources is made available, and by using, or staying reasonably close to, the Illinois guidelines for calculating the amount of alimony paid. Such an agreement will often be subject to modification, with mediation and/or arbitration utilized to settle any modification disputes.
Go Back <<