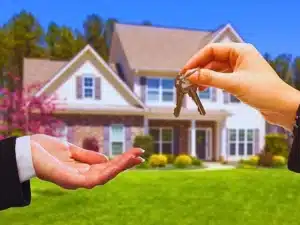 A homebuying checklist can help you get your dream home in the Arlington Heights, Illinois, area. The checklist should include performing an assessment of your finances, determining your homebuying criteria, finding a real estate professional, and doing a home inspection. It can also be important to understand homeowners association rules and fees. If you need help with purchasing your property, Illinois-specific programs could be helpful, too.
Illinois Homebuying Checklist: Your Step-by-Step Guide
Here is a step-by-step guide to help you buy real estate in Illinois.
Assess Your Financial Readiness
This step involves reviewing your credit score, calculating your debt-to-income ("DTI") ratio, figuring out how much money you will put towards a down payment, and saving more for it, if necessary. Online calculators can streamline many of these aspects and help you estimate monthly payments.
You'll probably also be responsible for most closing costs, which can be up to 5% of the home's purchase price. However, you can usually roll these costs over into the mortgage loan.
Getting preapproved for a mortgage is a good idea. It shows sellers you are serious, saves time, and puts you ahead of other buyers who are not preapproved.
Lenders like to see a DTI ratio of no more than 43%, with your potential new housing expenses accounting for no more than 28% of your DTI. If you determine you are not financially ready yet to buy a home, you can try to change that by getting a second job, paying off credit cards, or refinancing student loans, among other things.
Define Your Homebuying Criteria
Your budget is an important consideration for your homebuying checklist. How much can you comfortably afford per month? Other criteria are these:
Your must-haves (non-negotiables, different from "wants")
Your wants/preferences
Neighborhood/location
Property type and style
Future needs that the home would need to accommodate, such as working from home, having children, or having in-laws move in
Resale value, especially if you don't plan to stay in the home for more than a few years
Find a Knowledgeable Real Estate Professional
A real estate agent can be invaluable in your home search. Ask people you trust for referrals, and interview multiple agents. Ask questions specific to your situation to check whether the agent has applicable experience.
Begin Your Home Search
Attend open houses, and tour individual properties as part of your homebuying checklist. Work with your real estate agent and communicate any changing preferences. Be transparent about what you like and don't like about the homes you see.
It is normal to have to refine your selection criteria after seeing a few properties. Ask questions about the homes you see, and share any concerns with your agent.
Conduct a Home Inspection
A home inspection helps to prevent a nightmare experience when buying real estate in Illinois. Few things are worse than moving into a home you think is immaculate, only for problem after problem to occur. A thorough inspection can also provide valuable information for negotiations.
Hire a licensed and experienced home inspector, typically after the sellers accept your offer. The inspection is often a contingency in the purchase agreement.
Attend the inspection, if possible, so you can ask questions and get a close look at any issues that arise. When you receive the detailed report after the inspection, read it carefully. It should highlight safety concerns and significant issues. Additional inspections may be necessary, depending on the findings of the initial inspection.
Complete the Purchase
In this homebuying checklist step, you work with your mortgage lender to finalize the terms of your home loan. They may change a bit from preapproval quotes. Get homeowners insurance, review the Closing Disclosure, perform a final walk-through, and attend the closing.
Additional Considerations for Arlington Heights, Illinois, Homebuyers
You may want to add a few more things to your checklist for a new home purchase.
Research Local Property Taxes and Potential Exemptions
Property taxes can vary a good deal from one locality to another. You usually pay them with your monthly mortgage, so estimating them helps with your budget. You may also qualify for tax exemptions for seniors, veterans with disabilities, and homeowners with energy-efficient properties, among others.
Understand Homeowners Association Rules and Fees, if Applicable
HOA fees in Arlington Heights and surrounding areas can add a few hundred dollars to your monthly budget and tend to go up over time. Understanding the fees and what they cover (such as roof repairs) helps you get a comprehensive picture of your finances.
It is also important to learn about any rules. HOAs may limit how many pets you have and their weight, for example, and how you decorate the exterior of your home. Some homeowners would rather not have to follow regulations like these.
Be Aware of Illinois-Specific Homebuyer Assistance Programs
Illinois has multiple programs for homebuyers, but they change over time. Some programs go away, and new ones appear. Your real estate agent and real estate attorney can help you find current programs you may qualify for. They might make homeownership more affordable for you and expand your options.
How a Real Estate Attorney Can Help You Get Your Dream Home
Buying a home is the biggest financial transaction you may make in your life. A real estate lawyer can streamline the process while helping you avoid common pitfalls such as unfavorable terms, delayed closings, and title holdups.
Questions to ask when hiring a real estate lawyer include:
Can you still help me if an issue arises after the transaction closes?
How do you typically resolve situations like mine?
Who will be my main point of contact, and how will contact take place?
A lawyer can be a tremendous help in many types of situations. For example, while a home inspection frequently helps prevent nightmare scenarios, not all inspections are equal, and problems can be very well hidden. Sellers do not always disclose what they should, unfortunately.
Go Back <<