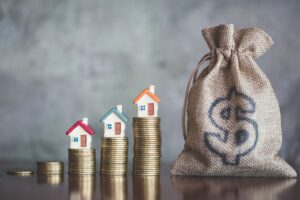 Investing in real estate offers several ways to make money. A relatively safe and potentially lucrative opportunity, many purchase commercial and residential properties to help diversify their portfolios. Generally, the factors that affect other types of investments, such as stocks, do not impact real estate investments.
Turning a Profit in the Real Estate Market
Profits from real estate investing may generate through appreciation and income. Appreciation, or an increase in a property's value, occurs due to ranging factors. Real estate owners may also sublet all or part of their properties to others for a fee.
Buying and Holding
A long-game strategy, real estate investors may make money by purchasing and holding properties. Over time, their real estate may increase in value due to factors such as the property's location, developments on or around the property, and improvements to the property. For example, a raw landowner who adds electrical lines, water, and plumbing may then ask for more if he or she decides to sell the property later.
House Flipping
Largely popularized on television, house flipping involves purchasing properties at reduced prices and selling them for more. Between purchasing and selling properties, house flippers often make improvements or complete repairs. Such updates frequently increase the value of these properties, allowing flippers to list and sell them for substantially more than the cost of the purchase and renovations.
Renting Properties
Real estate investors may also generate income through renting or leasing their properties to tenants. Some choose to enter contracts with long-term renters. Others choose to take advantage of vacation rental sites and applications such as Airbnb and VRBO, charging premium prices for short-term rentals in highly sought-after areas.
REIT Investing
Real estate investment trusts let investors start putting resources into property ownership, even if they do not have the funds for a down payment or repairs, or the ability to manage a property. A REIT is a type of investment company that trades in income-producing real estate properties. Instead of purchasing a piece of land themselves, investors buy shares of the REIT. In return, they receive a portion of the profits produced by those pieces of real estate.
When considering investing in real estate, people may also think about consulting with a real estate lawyer. A legal representative may help them understand their rights, options, and obligations to maximize the return on what they put out.
Go Back <<