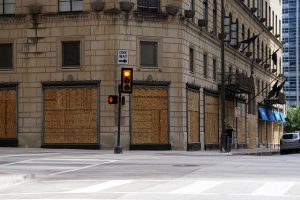 The pandemic has already been hard on businesses in downtown Chicago, but recent looting and vandalism could cause the commercial real estate market to plummet.
Dealing with Waves of Looting
The first wave of looting and vandalism for many businesses came in May after George Floyd was killed while in police custody in Minneapolis. During protests, many businesses in Chicago and many other cities across the U.S. sustained damage and lost valuable inventory.
As stores began to recover from the damage dealt in that first wave, protests and subsequent instances of looting and vandalism came again in August. Many of the more recent protests in Chicago and throughout the country have taken place in the wake of the police shooting of Jacob Blake in Kenosha, Wisconsin.
The damage resulting from the looting has made it harder for businesses in Chicago to recover from an already-difficult economy resulting from the coronavirus pandemic.
Insurance Companies Will Cover Most Damage
Insurance is expected to cover the damage resulting from the looting in addition to any stolen merchandise. As the Insurance Information Institute states, nearly all commercial real estate property and business owners benefit from policies that cover riots, vandalism, and civil commotion.
Businesses with business interruption insurance may also be able to recover lost income that resulted from the inability to open and operate. However, according to the Insurance Information Institute, only around 40% of businesses are covered with this type of insurance.
The total cost of looting and vandalism to businesses is around $500 million to $900 million, making it one of the most expensive events the city has faced.
How Businesses Will Recover
Unfortunately, many smaller businesses don't have the coverage they need to help cover the costs of damages and thefts. Even the businesses that do have coverage will still struggle to recover, as the pandemic had prevented businesses from operating prior to the protests and left them handicapped. While many of the businesses hit the hardest are national chains, more retailers may be deterred from having stores in the downtown area if it means risking more damage.
Currently, it's unclear exactly how the recent looting and vandalism will impact the commercial real estate market in the long term. The unpredictable nature of recent events could affect the recovery of stores in Chicago differently, depending on whether stores have a chance to revive or suffer more damage.
Go Back <<