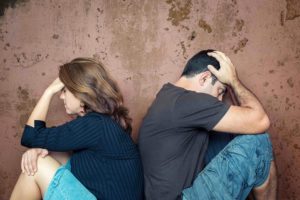 Mental illness can significantly impact divorce and child custody in Chicago. When one spouse suffers from mental illness, the judge may make adjustments to the division of marital assets, the way parenting time and parental responsibilities are allocated, or spousal maintenance to better accommodate the person's needs and the best interests of any minor children.
How Mental Illness Could Affect a Divorce
Mental illness issues may impact the division of marital assets. In some cases, the judge might make an adjustment to the split depending on each spouse's health, employability, and income sources. Because a mentally ill spouse might have a limited capacity to work, the judge could give him or her a larger share of marital assets to compensate for future expenses. Spousal maintenance may also be significantly impacted especially when the couple has children that reside with the mentally ill spouse.
Custody proceedings are also impacted when a spouse suffers from a mental illness. The court will take the following factors into consideration to determine the best interests of the child(ren).
Who is best equipped to make legal decisions regarding the child(ren) and appropriate parenting time
Previous, current and potential future relationships between the child(ren) and mentally ill parent
The child(ren)'s safety, emotional well-being, and adjustment to home, school, and community
The wishes of the child, depending on age and maturity level
Whether a parent has committed child abuse, domestic violence, or made a fraudulent attempt to report the other parent for child abuse or neglect
Illinois is a No-Fault Divorce State
Even when a spouse's mental illness has caused the breakdown of a marriage, it is no longer grounds for divorce under Illinois law. Since 2016, Illinois has been a no-fault divorce state. The only grounds for divorce under the law is irreconcilable differences. Other previous grounds for divorce, such as mental illness, including drug addiction or alcoholism, mental cruelty, or adultery can no longer be claimed.
One of the reasons for this change is to eliminate the need to determine whether a spouse is innocent or guilty of the reason/grounds for the divorce. When establishing the grounds for irreconcilable differences, both parties need only show that those differences have led to the irretrievable breakdown of their marriage and any attempts to reconcile would not be in the best interest of either party or any children of the marriage.
Go Back <<