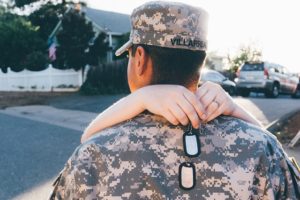 Military couples who decide to divorce are typically faced with a more complex process than those who are civilians. While divorce is rarely an easy life event to experience, when military laws and the lifestyles of military members and their families are added to the equation, the process is often lengthy and more complicated. Understanding the complexities involved can help ensure that current military members, veterans, and their spouses achieve a fair and comfortable resolution.
Divorce in the Military
Being in the military can place considerable strain on a couple's marriage. Sadly, the pressures involved often cause relationships to end in divorce. And although the divorce rate in the military has declined in recent years, it remains quite high at 3.1 percent.
The Complex Layers of a Military Divorce
In many ways, a military divorce shares a variety of similarities to a non-military dissolution of marriage. In most cases, however, there are additional factors that are involved in the completion of a divorce involving the past or present military member.
Jurisdiction
First, military couples wishing to get a divorce in Illinois must determine what court has jurisdiction in their case. For civilians, jurisdiction is typically the state in which the couple resides. Since military members are frequently deployed or stationed in other locations, divorce can be filed in the state the member claims for permanent residency, the state where the person who is filing resides, or the location where the military member is stationed.
Additionally, some parts of a military divorce are handled on the state level while others are handled on the federal level. Military pensions, for instance, are generally handled on a federal level while things like child support, parenting time, property distribution and alimony are usually dealt with on a state level.
Protection from Divorce Proceedings
The Service members Civil Relief Act (SCRA) protects active-duty military personnel from divorce proceedings in most situations. Under the Act, men and women who are on active status in the military cannot be sued for divorce or begin divorce proceedings until 60 days after active duty status ends. This is at the discretion of the court, however.
Military Benefits
Former spouses of military personnel are also eligible for a variety of benefits that do not typically apply to civilian divorces. Ex-spouses often receive full medical commissary and exchange privileges if:
The marriage lasted 20 years or more.
The military member has given a minimum of 20 years of credible service.
There was a minimum of at least a 20-year overlap of military service and marriage.
Additionally, when there were at least 10 years of overlap of marriage and military service (commonly referred to as the 10-year rule), a former spouse may also be eligible for a portion of the service member's military retirement to be paid directly from the Defense Finance and Accounting Service (DFAS). And for ex-spouses who do not meet the requirements of the 10-year rule, the court can still order payment to be submitted by the retiring military member.
Parenting Time and Visitation
When a military couple has children, divorce often becomes even more complicated. The demands of the military and the duties that go along with serving the country can sometimes have a significant impact on child rearing and even regular visitation schedules. Since it is the court's duty to make custody and visitation determinations based on the best interests of the child, it must take military duties and demands into consideration. Factors that may influence parenting time include:
The possibility of overseas deployment in the future
Transfers to other duty stations (location changes)
Special needs of the child or children
A strong parenting plan can help alleviate potential challenges and disputes in the future. The "what ifs" that surround military life should be carefully evaluated when creating a plan. Even with the best parenting and visitation agreements, however, unexpected conflicts still occur.
Child and Spousal Support
When one member of a divorcing couple is in the military, child support and alimony can be complex. Since the Department of Defense requires that service members comply with child and spousal support orders, and failing to do so can result in severe punishments including the loss of the member's service career/ benefits, compliance rates are substantially higher than they are among civilians.
Determining child support and alimony for military families is different than calculating support for civilians. To begin with, Military members' paychecks are different than those of non-military members. In addition to a service person's base pay, his or her housing, and food allowances, hazardous duty pay differentials for those serving in dangerous locations, and even nonmonetary compensation are all often considered. And since much of a military member's income is actually tax-free, using an income tax return is useless. Instead, the service person's Leave and Earning Statement (LES) should be used.
Go Back <<