Any Illinois couple facing divorce has serious issues to confront, but those who choose to divorce after age 50 often face significant lifestyle changes that they may not have anticipated. A divorce lawyer in Chicago understands that there are different implications stemming from a late-in-life divorce, and it pays to be prepared for what lies ahead if one decides to end a decades-long marriage.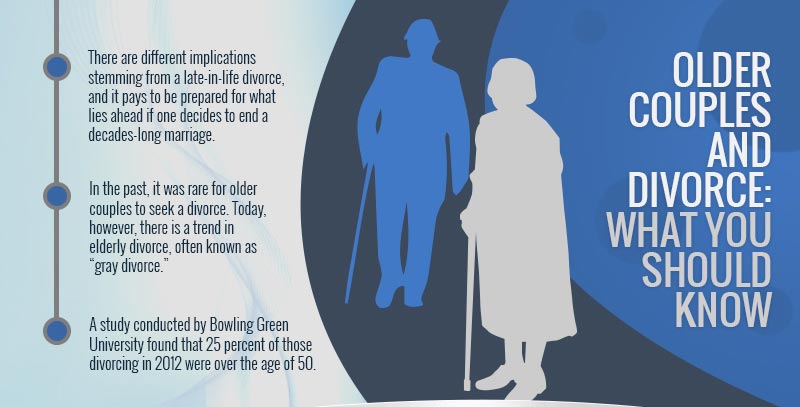 (article continues below infographic)

In the past, it was rare for older couples to seek a divorce. Today, however, there is a trend in elderly divorce, often known as "gray divorce." A study conducted by Bowling Green University found that 25 percent of those divorcing in 2012 were over the age of 50. In 1990, that number was just 10 percent. As the amount of older divorcees continues to grow, it is worth learning more about what to expect when an older couple divorces.
How property is divided in Illinois
Regardless of the age of the divorcees, state law requires all couples to divide all property that is considered to be part of the marital estate. One of the most common issues raised during the property division process with older couples is what to do with the family home. After raising a family in a home, it can be difficult to let go. Couples should decide together whether to sell or give ownership to one spouse, or the court will be required to make the decision on their behalf.
The need for financial planning
Those who divorce in their retirement years could face potential financial struggles. Many couples rely on two incomes throughout the duration of their marriage, but a divorce lawyer in Chicago knows that living off of a divided retirement can be a challenge. Increased health concerns can make it even harder to make ends meet. Working with a financial planner may be able to help older divorcees prepare for the change in their monetary situation following a divorce. With the assistance of a professional, it may be wise to do the following:
Calculate living expenses
Account for tax consequences
Create a mixed portfolio
Determine time value of money
Find a new source of income
Anticipating living on less after a divorce can help buffer the shock that may come once the division of marital assets is completed.
The need for legal aid
In addition to a financial planner, many older couples find value in hiring a divorce lawyer in Chicago. Any divorce can be complicated, but it may be beneficial to have the assistance of a legal professional who has experience working with older clients.
Go Back <<