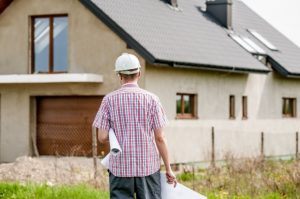 Home inspectors are liable if they miss problems that should have been caught before a buyer purchases a home. They have a duty to perform their work according to industry standards. If they fail in their duty, their customers can sue them with the help of a real estate lawyer. Home buyers need to beware of contract clauses that might limit the inspector's liability to the cost of his inspection in case he makes a mistake.
What Does a Home Inspector Do?
The job of a real estate home inspector is to uncover any problems that sellers might not disclose or be aware of with the home they are selling. The inspector will look for exterior problems with the home, including roof, foundation, drainage, gutter, or crawl space problems. Inside the home, the inspector looks for problems with:
Plumbing
Electrical
Attic
Basement
Heating and air conditioning
Appliances like water heaters, ovens or dishwashers
The inspector will give the person who hired him a list of all items that have been inspected, noting whether they are in working order, need repair or will need to be replaced soon. When problems are identified, the home buyer can request that repairs be made or back out of the sales contract.
What Happens When a Mistake is Made?
There is always the risk of a home inspector making a mistake. And that can be costly to the buyer when problems with the home are found after the sale has been finalized. Having to replace a heating and cooling system, roof or have mold remediation is costly. It is also an expense that the buyer would not have had if the home inspector has performed his duties correctly.
When hiring a home inspector, the home buyer should avoid hiring one that limits his liability to the cost of the inspection. If the buyer requests that the inspector reimburses him for the expenses incurred by the mistake, the home inspector can legally refuse.
It is advisable to always ask if the inspector is covered with general liability insurance and professional liability insurance, aka errors and omissions insurance. This insurance covers the inspector if he is sued for the mistake. And instead of dealing directly with the inspector, the home buyer or his real estate lawyer will work with an insurance adjuster.
Go Back <<