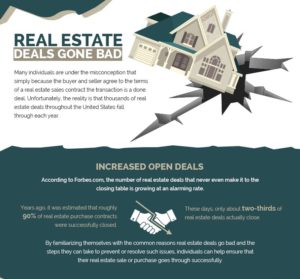 Many individuals are under the misconception that simply because the buyer and seller agree to the terms of a real estate sales contract the transaction is a done deal. Unfortunately, the reality is that thousands of real estate deals throughout the United States fall through each year.
In fact, according to Forbes.com, the number of real estate deals that never even make it to the closing table is growing at an alarming rate. Years ago, it was estimated that roughly 90 percent of real estate purchase contracts were successfully closed. These days, however, that number has dropped significantly, and only about two-thirds of real estate deals actually close.
(Article continues below infographic)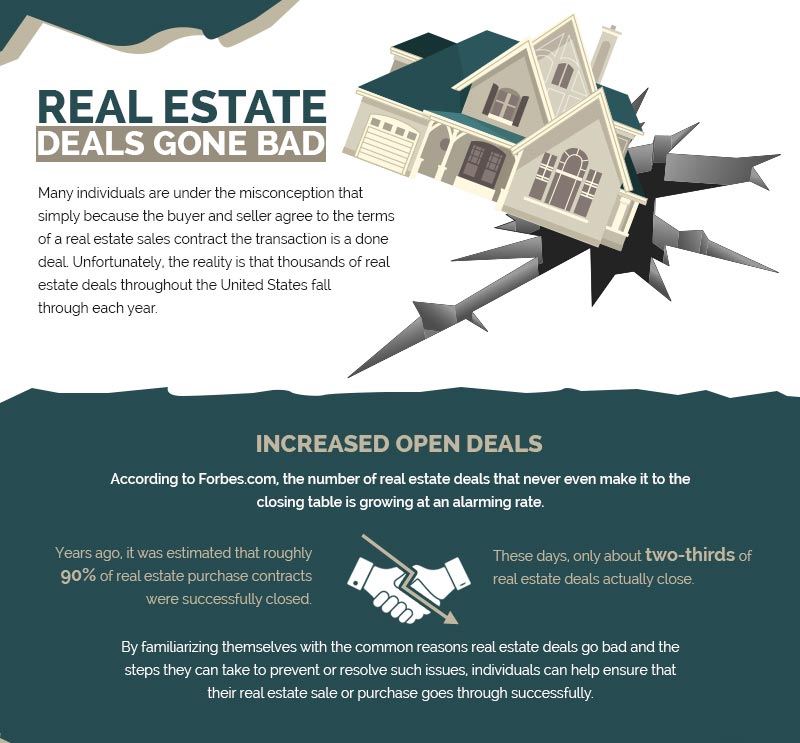 By familiarizing themselves with the common reasons real estate deals go bad and the steps they can take to prevent or resolve such issues, individuals can help ensure that their real estate sale or purchase goes through successfully.
Real Estate Agent
Employing the services of an experienced and competent real estate agent is crucial when buying or selling a home. In fact, one of the most common reasons that real estate transactions are unsuccessful is because of poor real estate agent performance. In many cases, inexperienced or incompetent agents may not keep up with contract deadlines, follow up with inspections, appraisals and loan approvals or rejections, or communicate adequately with real estate attorneys to ensure that documents are being reviewed in a timely manner. Individuals who are considering buying or selling their homes should avoid agents who lack the experience and dedication to adequately assist them with their transactions.
Inspections
Buyers have the opportunity to order a variety of inspections when purchasing a home. Unfortunately, these inspections can often cause a real estate deal to fail. It is highly recommended that sellers have a home inspection performed prior to listing their home on the market in order to identify any problems and have them corrected to help prevent a future sales contract from falling through. Common issues that often cause contracts to fall through include things like pest infestations, mold, structural issues and roof damage.
Appraisals
While some appraisal issues do not have much bearing on whether or not a real estate transaction falls through, others can become a nightmare that is destined to prevent a successful closing. When a home is appraised for many thousands less than the proposed purchase price, for example, buyers and sellers are often not able to come to terms with each other on an acceptable price, and the deal is likely to fall through. In most cases, however, sellers can protect themselves from experiencing this type of mishap when they compare the recent sales prices of similar homes in the area before listing their home on the market.
Closing Documents
There are a number of documents involved with the purchase or sale of a home, and they can sometimes become extremely confusing. When the paperwork is incomplete or incorrectly filled out, closing of the sale cannot proceed. A careful review by experienced real estate attorneys for the buyer, the seller and the bank is typical. The most common document issues that occur to make a real estate deal fall through are related to the title of the property. Problems that are frequently encountered with real estate property titles include:
Prior Bankruptcies
Errors with Public Records
Outstanding Liens
Missing Heirs
Sellers can help prevent any surprises that may arise with real estate titles by obtaining their own title report in advance to ensure that there are no threats for claims and their property is, in fact, theirs to sell.
Pre-Foreclosure Issues
Pre-foreclosure deals, also sometimes referred to as short sales, can be extremely tricky and they often fall through for a variety of reasons. The primary reason that these types of deals fall through, however, has to do with timing. Often, when the lender involved gives the approval to close, they will request a closing date that is within 14 -21 days, sometimes even sooner. This does not leave sufficient time to have the appraisal completed and the closing documents prepared and reviewed, which can prevent a successful closing.
Buyers Inability to Follow Through
Oftentimes, a buyer's inability to secure financing or obtain the necessary down payment to purchase the listed property will cause the deal to fall through. By entering into contracts with pre-approved buyers who are not depending on the sale of their current home, sellers can protect themselves from incapable buyers.
Although many of the issues that can cause a real estate transaction to go bad cannot be prevented, individuals who are buying or selling a home should take the steps necessary to help avoid any issues that might arise. Working with experienced real estate professionals, qualified real estate attorneys, and competent inspectors can make a world of difference in achieving a successful transaction in most cases.
Go Back <<