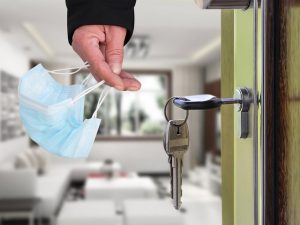 The coronavirus pandemic has unended the homebuying process in Illinois. With an increased reliance on virtual tours over in-person appointments, closings have become more challenging for real estate lawyers, Realtors, and homebuyers and sellers. Approaches to closings need to be reconsidered.
Real Estate Challenges Caused by the COVID-19 Pandemic
As a result of the COVID-19 pandemic, buying and selling have halted with the introduction of the nationwide lockdown. Many people preparing to close were suddenly unable to do so.
Like many other facets of people's lives, the real estate industry has been largely impacted by the pandemic. Despite this, many real estate businesses throughout Illinois are still operational.
Real estate closings have been particularly affected because of the coronavirus. This is a process that's reliant on the coordination of many parties. Individuals such as buyers, sellers, real estate lawyers, lenders, county records officials, and insurance agencies are all involved in closings. While the closing of a real estate sale is often a cause for celebration among both buyers and sellers, the pandemic has made it more difficult to enjoy the process.
Developing Workarounds to Facilitate Closings
As the coronavirus led many businesses, including banks, to interrupt processes, it's been harder for many professionals to work cohesively toward a sale. For example, certain sellers have been unable to connect with workers at banks, leading agents to reach out to lenders that can help continue the process.
Agents are also conducting virtual tours to eliminate the need for in-person tours. However, there is still a need to set up in-person inspections and appraisals.
Other businesses, including insurance companies, are taking steps to help enable closings to take place without the ability to meet as easily in-person. For instance, some companies may still offer in-person closings at local offices while simultaneously offering curbside closings that allow people to remain inside of a vehicle when meeting insurers. During curbside closings, closers deliver documents to buyers' and sellers' vehicles along with phone numbers and instructions for communications.
Sellers can typically handle most aspects of a real estate transaction remotely. On the other hand, homebuyers and real estate attorneys must decide on the best way to navigate the real estate closing.
While closings are tougher, there are still workarounds available. New remote notarization procedures and the use of powers of attorney are helping to streamline the home buying and selling process.
Go Back <<