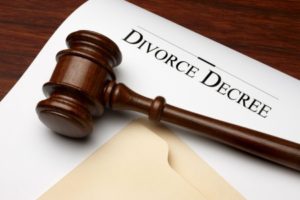 The decision to end a marriage in Illinois is rarely an easy one. For most couples, divorce was not on their minds when they married. Whether the dissolution of a marriage was amicable or messy, determining how to ensure both party's financial situations outside of the relationship can be complicated. Division of property is required by state law and also includes dividing retirement plans between both spouses.
When a spouse has been in the workforce for a long period of time, it can be difficult to give up a portion of the retirement that has been put away for use in the future. However, spouses who have forgone careers to stay at home to raise children often need financial assistance in later years. In order for retirement benefits to be distributed correctly, couples should obtain a qualified domestic relations order, or QDRO.
Retirement plans as marital property
According to Illinois state law, any retirement benefits that were accrued during the duration of a marriage are considered marital property and are subject to division by the courts. The state relies on the Hunt formula, which was created in the case "In Re Hunt Marriage," to divide marital assets. The divorce settlement should outline how the benefits are to be divided once a QDRO is approved and signed by an Illinois state judge.
The basics of QDROs
When dividing retirement plans, the administrator of the account has to be informed of how to distribute the funds to an alternative payee. A QDRO is a court order that details to the plan administrator how to make payments to the non-employee spouse. While removing funds from a retirement plan would typically result in high taxes and other penalties, a QRDO allows the money inside a plan to be distributed without penalty.
In general, QDROs only apply to benefits that are held in workplace plans, including the following:
Traditional pension plans
401(k)s
403(b)s
Employee stock ownership plans (ESOP)
Profit-sharing plans
Personal IRAs, including both Roth and traditional accounts, do not require QRDOs, but utilizing a domestic relations order can help ensure that taxes and penalties are not incurred by mistake.
Special requirements
Individuals who work for state or federal agencies often have to follow special rules and requirements. The state of Illinois requires its employees to create qualified Illinois domestic relations orders, or QIDROs, to divide the retirement benefits.
The process of dividing retirement assets can be complicated, and if not done properly can result in financial loss. Utilizing an attorney with experience in retirement division can ensure that all documentation is completed correctly.
Go Back <<