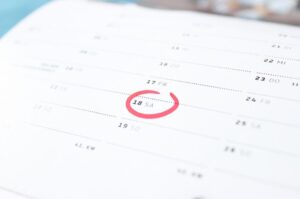 The date of separation is an important factor that is often considered when deciding issues like child support, spousal maintenance, and the division of assets and debts. During this period, a lot of changes that have profound implications on the financial situation of both partners can happen. In some cases, the couple may still share debts and expenses incurred, as well as profits and benefits earned during the time of separation.
What Is the Date of Separation?
The legal definition of the Date of Separation (DOS) varies with state. In Illinois, legal separation begins when one spouse files a petition with the court stating that the spouses are living separate and apart. Spouses do not have to live in separate homes in Illinois to be considered "living separately." They may still reside together, as long as they are no longer living like a typical married couple.
Like with divorce, couples can negotiate the terms of their legal separation, including things like child support, spousal maintenance, property division, and the distribution of debts. Once the judge signs the order, it will remain binding until it is modified in court.
The Financial Implications of The Date of Separation
Debts and Credit Lines
Both spouses are usually responsible for debts incurred during the marriage, but before they became legally separated. Although legal separation does not terminate the marriage, debt that is incurred by either spouse after a judgment of legal separation is not typically considered marital debt.
Earned Income
In Illinois, income that is earned by either spouse after a judgment of legal separation is not considered marital property. If the money is earned prior to the date of separation, but not paid to the spouse until after the separation, however, it will generally be considered marital property.
Child Support
The date of legal separation can also be used to determine when a spouse becomes responsible for paying child support.
Alimony
Most courts calculate the duration of the marriage from the date the marriage began to the formal date of separation. The date of separation, therefore, is often one of the factors used to determine how much spousal support a partner will get. Most courts award more alimony payments to ex-spouses who have been in long-term marriages lasting ten or more years.
Go Back <<