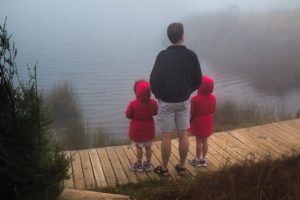 Parents involved in child custody cases may be court ordered to participate in supervised visitation with their children. When the court feels there is a risk of abuse or neglect to the child or when a parent has not seen their child for an extended period.
In some cases, the custodial parent, through a family lawyer, requests supervised visitation for the non-custodial parent during a child custody evaluation, especially if the other parent has been absent from the child's life or if there is a history of domestic violence. When child protection services are involved, supervised visitation is often required before reunification between the parent and child is possible.
When the other party's family lawyer recommends supervised visitation for the non-custodial parent, the judge reviews the case and determines the specific details that the parent must follow, including length of time and duration of the visits. The court reviews the need for supervised visitation after the specified duration. When the Division of Child and Family Services (DCFS) is involved, supervised visitation continues until DCFS determines there is no longer a risk to the child or reunification is no longer an option.
Child Protective Services in Illinois
Child protective services in Arlington Heights are part of the Illinois Department of Child and Family Services (DCFS). The department is responsible for investigating all allegations of child abuse and neglect, reunifying parents and children and other child welfare issues. In addition to mandated reporters, such as school personnel and medical professionals, anyone with a concern of child abuse or neglect can call and make a report.
DCFS investigates and if they determine it is unsafe for the child to remain in the home with the parents, the child will stay with a relative or foster home while the parents work with DCFS and parent visitation supervisors to correct the issues and begin the process of reunification.
Working with DCFS Workers and Visitation Supervisors
A family lawyer is likely to encourage parents to cooperate and work with DCFS by making the most of parent-child visitations so reunification is possible. In most cases, the requirements of visitation are outlined in the court order with input from DCFS that includes duration, frequency and location of visits, and level of supervision required.
Parent-child visitation supervisors are third party adults who monitor visitations to ensure the child's safety and well-being. They can also provide export support and reinforcement when issues arise during visits. Their ultimate goal is to help parents reunite with their children and to have positive interactions with their children. Parents should try to have as natural of an interaction as possible, as they would if the supervisor were not present.
Quality Visitation over Quantity
Supervised visitations are often short and less frequent than most custodial parents prefer. Margret Nichols, director of the Center for Children and Families in Chicago says that when interacting with kids, the "most important factor for quality time is parents who are physically and mentally available to their children." Parents should be fully available to and engaged with their children during the visit rather than texting, checking email or other activities that direct attention away from their children.
Plan Ahead and Come to Visits Prepared
When visits do not occur in the child's own home, it can be uncomfortable for both parents and children. Most public facilities are not equipped with games, puzzles and other activities. Parents should plan activities and bring something to do that allows direct interaction between parent and child.
Parents who talk with their child to get activity ideas for the next visit are better prepared and can focus on quality time with their child. Parent-child supervisors and DCFS workers can help provide parents with appropriate activities and snack ideas.
When Things Don't Go as Planned
Any number of unplanned issues can arise during parent-child visitations. Unexpected travel delays reduce the time available for the visit. Kids are sometimes cranky and tired. A planned outdoor visit is rained out. Infants sleep through visits and other less than ideal situations arise.
In cases where domestic violence is an issue and the other party interrupts visitation or exchanges between parents present dangers to the children or other parents, parents should talk with an Arlington Heights family lawyer to discuss safe haven exchange programs and other options.
End Every Visit on a Positive Note
The end of a visit is often emotional for both parents and children. It is important for parents to end every visit positively, regardless of whether the visit went well. It is important to realize that children may exhibit anger, happiness or sadness at the end of the visit. Parents need to remain positive, loving and reassuring without overreacting regardless of the child's reaction.
Go Back <<