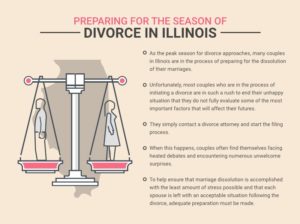 As the peak season for divorce approaches, many couples in Illinois are in the process of preparing for the dissolution of their marriages. Unfortunately, most couples who are in the process of initiating a divorce are in such a rush to end their unhappy situation that they do not fully evaluate some of the most important factors that will affect their futures. They simply contact a divorce attorney and start the filing process. When this happens, couples often find themselves facing heated debates and encountering numerous unwelcome surprises. To help ensure that marriage dissolution is accomplished with the least amount of stress possible and that each spouse is left with an acceptable situation following the divorce, adequate preparation must be made.
(Article continues below Infographic)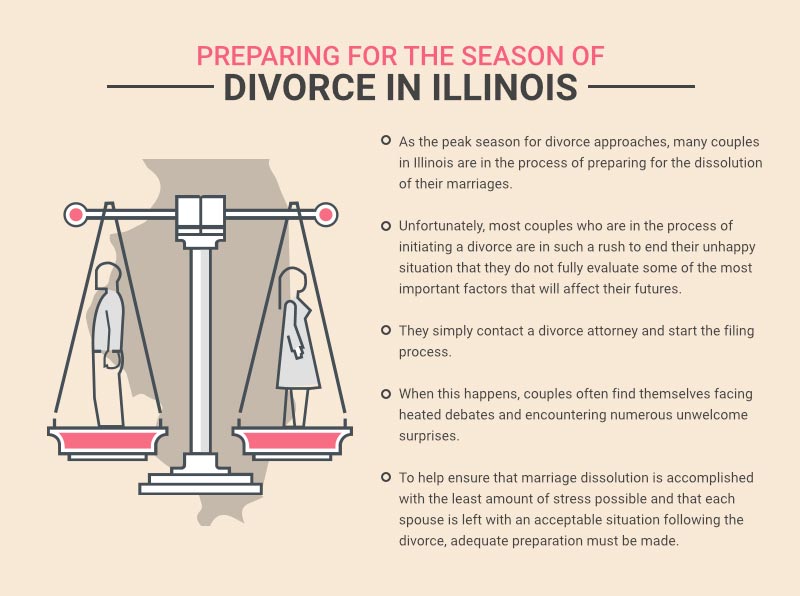 Financially Preparing for Divorce
One of the most important steps divorcing couples should take is to get their finances in order.
Close Joint Accounts: Couples who share checking and savings accounts should divide the shared funds as fairly as possible and open new accounts separately when possible. Doing so can prevent angry spouses from hastily removing large sums of money to "punish" the other party.
Joint Liabilities: If credit cards and loans are shared, the accounts should be monitored closely. It is important for individuals to understand that they will remain liable for any debts as long as their name is on the accounts — regardless of the divorce decree.
Financial Capability: Each individual should reevaluate his or her own financial situation to determine whether he or she can afford mortgage, vehicle, or other payments for property that person wishes to keep.
Other Things to Consider When Preparing for Divorce
In addition to preparing for the financial aspects of divorce, couples who are ending their marriage should also consider the following:
Estate Plan: Beneficiaries on life insurance and retirement accounts should be updated in compliance with Illinois divorce law and the divorce agreement.
Insurance Coverage: Auto, homeowner's, and health insurance policies should be evaluated and updated to reflect a single status if necessary. If health insurance will be changed, individuals should be mindful of any applicable deadlines.
Parenting: Once child custody has been determined, parents should make arrangements for changes with daycare, schools, and extracurricular activities as soon as possible to minimize the effects of the divorce on any children involved.
Go Back <<