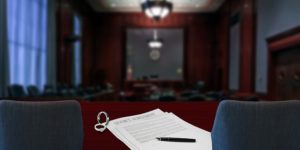 Appearing in child custody court can be intimidating, but knowing what to expect as the case moves in front of a judge can help relieve some of the stress. Becoming familiar with legal terms commonly used in court and understanding the role of the judge in custody proceedings can help parents prepare for what's in store.
Learning the Legal Terms
It helps to be familiar with the legal terms that apply to a child custody proceeding so that parents know exactly what they are asking the judge to order.
"Legal custody" pertains to how the parents will make decisions on behalf of the children involved. Rather than small decisions like bedtimes, parents have the right to make decisions regarding important factors like medical care, education, and religion. Typically, joint legal custody is ordered unless a parent is unfit to make decisions that are in the best interests of the children.
Physical custody refers to the living arrangements of the children. Parenting plans are required to lay out the terms of "parenting time" if the child spends more time with one parent than the other.
Custody Without Divorce
Parents who were never married or who plan to live separately are likely facing a custody trial if they fail to come to an agreement on their own.
A trial could involve a single court appearance or a series of evidentiary hearings after an initial court appearance, depending on the complexity of the case and whether witnesses or other evidence will be presented. The judge may deliver his or her decision at the end of the final fact-finding hearing or at a dispositional hearing. This depends on whether or not the judge wants more time to review the evidence and court transcripts before making the final decision.
Custody and Divorce
For married couples seeking a divorce, the courts require the inclusion of custody terms for children in the final divorce judgment or decree. When custody is contested, the terms will be decided as part of the divorce proceeding. Temporary custody orders are often given to couples that live apart until the divorce is finalized, at which point permanent provisions will be included in the divorce judgment.
Go Back <<