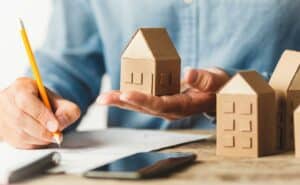 Knowing what questions to ask when hiring a real estate lawyer can help ensure that the attorney you choose has the knowledge and experience to assist with your transaction. Various types of obstacles can arise when buying or selling real estate. Without a skilled real estate attorney on your side, you could be forced to navigate these issues alone.
Initial Questions to Ask When Hiring a Real Estate Lawyer
Your initial consultation is an excellent time to ask questions and get to know the attorney you're considering. Before your interview, prepare a list of questions to ask when hiring a real estate lawyer. You might consider asking the following:
How long has the real estate lawyer been licensed and practicing in Illinois?
Will the attorney be the best point of contact, or will someone else have the details of the case as well?
What is the real estate lawyer's strategy for resolving this type of situation?
When does the lawyer consider a case completed? Would he or she still be of assistance if something comes up after the real estate transaction is over?
How much does the law firm charge, and when is the bill expected to be paid?
These are some good starter questions to ask when hiring a real estate lawyer, but you may want to add a few, more specific questions of your own. Before making the decision about which real estate lawyer to hire, you might also consider asking about the attorney's experience with similar cases, who else may be working on your case, and the law firm's fee structure.
Does the Attorney Have Experience with Cases Like Yours?
Before hiring a real estate lawyer to handle your case, consider the type of real estate transaction you're dealing with, and the issues you may be facing with your sale or purchase. There are many differences between residential and commercial real estate transactions. A lawyer with many years of experience handling your type of transaction will have an easier time coming up with workable solutions if problems arise.
Who Else Will Be Working on Your Case?
In many larger real estate law firms, paralegals and other, less experienced lawyers may be assigned to clients' cases. If someone else besides your attorney will be handling portions of your case, your lawyer should disclose this information to you.
It's important to know who will be able to answer your questions at every stage of the case. For example, if you are a party in a contract to purchase agreement, and you need advice about what to do if you are behind on payments, or you want to know the difference is between foreclosure and forbearance, you should know who to turn to. The person handling your case should be able to help answer your questions and help you find solutions, like whether mortgage forbearance is right for you.
What Is the Real Estate Attorney's Fee Structure?
Attorneys generally set their fees based on their experience and the amount of work they will have to do. Some real estate attorneys charge a flat fee for the services they provide. Others charge by the hour. They may require payment upfront, or they may send billing statements as the case progresses.
The more experience real estate attorneys have, the more they tend to charge. Although hiring a less expensive lawyer might help you save a few dollars upfront, it could cost you in the end. A more experienced attorney will be more likely to have the knowledge and skills necessary to prevent a nightmare experience when buying real estate in Illinois.
What Services Does the Real Estate Lawyer Provide?
Real estate lawyers wear many hats, and all attorneys are not equal. While some lawyers provide only the most basic real estate legal services, others dig deeper. In Illinois, the services offered by a real estate lawyer might include:
Real Estate Contracts
If you're buying or selling real estate in Illinois, your real estate lawyer will review your contract to ensure you are entering into a fair and equitable agreement. He or she will make sure you understand your obligations under the contract and the obligations that should be met by the other party.
Real Estate Litigation
If a dispute arises during your real estate transaction, and litigation becomes necessary, your lawyer will represent you in court. He or she may draft legal pleadings to file with the court, represent you in hearings, and file appeals if necessary. Your attorney will also negotiate with the other side's lawyers to try and achieve a settlement agreement.
Real Estate Advice
A real estate lawyer who stays up-to-date with law changes and market trends will be able to advise you on purchasing your first home, a new home, or a vacation home. Your attorney can help you learn more about how to make money by investing in real estate, overcoming obstacles that arise during your transaction, and closing the deal without hiccups.
Do You Really Need to Hire a Real Estate Lawyer?
One of the most important questions to ask when hiring a real estate lawyer is, "Do I really need an attorney?" If you are buying or selling real estate in Illinois, laws in the state require you to hire a real estate lawyer to prepare the closing documents. Hiring a real estate lawyer for other services is not legally required. However, handling your real estate transaction or real estate legal issues on your own is not recommended.
While your real estate agent can guide you through finding a new home or commercial property, and he or she can help you market a property you're selling, real estate agents cannot offer legal advice or represent you in court if the need arises.
Knowing what questions to ask when hiring a real estate lawyer may help you choose an attorney who is best suited to handle your legal needs.
Go Back <<